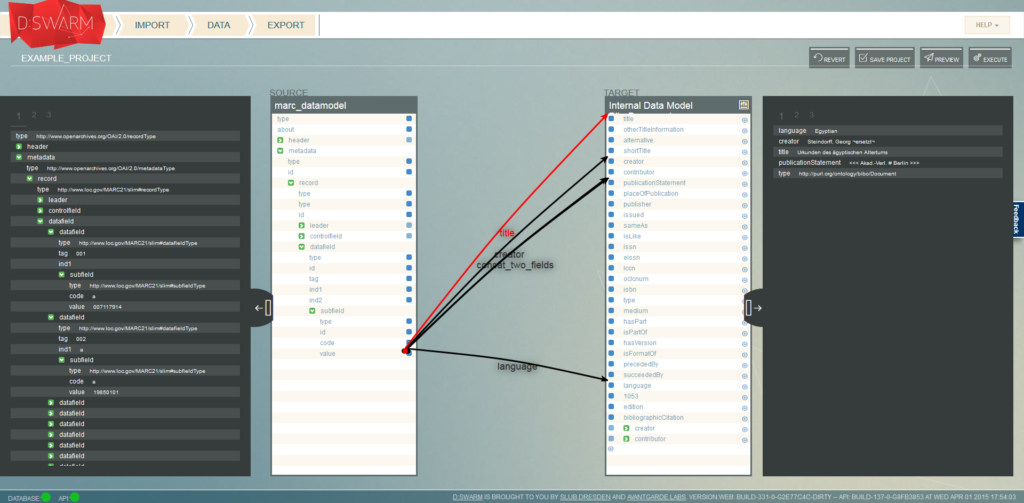 We have made great progress since our last release in December 2014 that we would like to share with you. Next regular release is scheduled for June 2015 so we have decided to deploy an interim release. Please have a look at http://demo.dswarm.org!
Version Wed Apr 01 2015 17:54:03; Web: build-331-0-g2e77c4c-dirty; API: build-137-0-g9fb3853
new features:
xml export
new inbuilt-schemata (PNX, OAI-PMH+MARCXML, OAI-PMH+DC-Elements, OAI-PMH+DC Terms) especially for import
new inbuilt-schemata (finc solr schema) for target side
new mapping functions
mapping to nested attributes
improvements:
many backend re-factorings (e.g. established UUIDs as entity identifiers)
known issues:
saving a project takes a bit longer but saving is performed successfully (DD-998)
there is a variety of problems using small screen resolutions (DD-1044)
While we have submerged ourselves into the d:swarm development our friends from Dortmund University Library released the first extension for d:swarm: https://github.com/hagbeck/task-processing-unit-for-dswarm. We are delighted by this contribution, especially as it came as a surprise. Many thanks to Hans-Georg Becker and his team!
Version 0.9 – a simple solution to be used in the production environment @SLUB Dresden will be released in June 2015. Stay tuned!